Sex and Gender is the Focal Point at Medical Meetings and More
Members of the Sex and Gender Women's Health Collaborative have been promoting their work to a variety of practitioners as well as making a case for enhanced training through a sex and gender lens.
Women's Healthcare Innovation and Leadership Showcase
October 15, Bridgewater,NJ
More than 300 leaders from medical institutions, industry and non profit came together for an evening of networking and              discussion about the opportunities to advance women's health in the new health care environment. Visitors to the exhibit were invited to play the Wheel of Differences, where questions about medical practice are posed to elicit an understanding of when and if sex or gendre distinctions in screening, prevalence, response to treatment, or outcomes varies between women and men.
Advancing Excellence in Gender, Sex & Health Conference, hosted by the  CIHR Institute of Gender and Health in Montreal, October 2012.
National Board of Medical Examiners Working Group meeting at the National Board of Medical Examiners offices in Philadelphia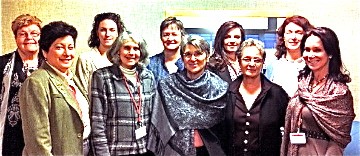 The Texas Tech University Health Science Center and Laura Bush Institute for Women's Health hosted its first Gender-Specific Women's Health Symposium on October 3 with more than 60 abstracts presented. Larry Cahill, Ph.D., professor of Neurobiology and Behavior  at UC Irvine provided the Keynote address. Noteworthy was the interest of 100 attendees from four schools and six campuses 60 abstracts for presentation. The strong response from leadership, faculty and students resulted in many "ah ha" moments in discovering the significance of sex and gender medicine.
Physicians, medical students, physicians-in-training and speakers at the American Medical Student Association Annual Meeting in Houston and the American Medical Women's Association annual meeting in Miami visited the Advancing Women's Health Initiative exhibit (relaunched as the Sex & Gender Women's Health Collaborative)which inspired them to consider sex and gender differences in their approach to medical care.  Medical students was very interested in learning more about approaching their patients with a sex and gender lens; one student voiced his support for women's rights in healthcare so much so that he started a chapter of the American Medical Women's Association at the University of South Florida.  Margaret A. Nosek, PhD, executive director of the Center for Research of Women with Disabilities at Baylor College of Medicine in Houston stopped at tour exhibit to reinforce the need for people with disabilities to be included in efforts to promote sex and gender specific care.